East York Massage and Physiotherapy Studio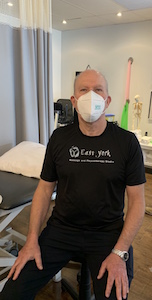 Daniel Lustgarten, PT
Registered Physiotherapist
Daniel Lustgarten graduated from Azusa Pacific University, in California with a Masters Degree in Physiotherapy in 2000. Soon after, he took a position in as a therapist in a busy outpatient clinic. Patients there were suffering from job related injuries and many of them required an invasive surgery such as a laminectomy, a spinal fusion, or a joint replacement. Guiding these individuals from a starting point of low physical resilience to one of renewed confidence and strength was a constant challenge. The gains that patients made, large or small, were cause for celebration.
After two years, Daniel moved from sunny Southern California to the Great White North with his Canadian wife., Annie. He gained experience in various healthcare environments, including a chronic pain clinic, a sports clinic, and as a physiotherapist delivering care in the community. These positions put him in contact with patients that suffered from many kinds of musculoskeletal and neurologic conditions.
Daniel has taken a wide variety of continuing education courses. He is credentialed with the McKenzie Institute, which has given him skill in treating painful syndromes of the neck and lower back. He possesses expertise with acupuncture, therapeutic taping, and mobilization with movement.
Daniel believes that his ability to relate to people is as important as anything else in his "therapeutic toolbox".
When not at work, Daniel likes to hike, and to cook great dinners for his family.
Availability:
Tuesday: 4pm - 8pm
Wednesday: 4:15pm - 8pm
Thursday: 9am - 1:45pm
Friday: 11am - 7pm
Saturday: 11am - 6:30pm