East York Massage and Physiotherapy Studio
Fanaye Whyte, PT
Registered Physiotherapist (SeniorTherapist)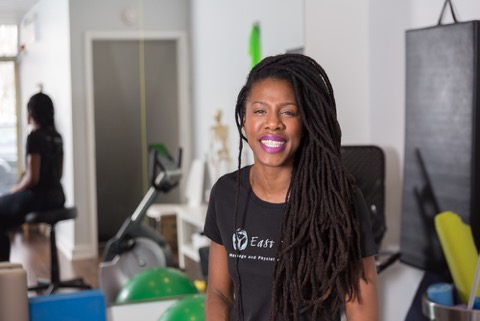 An evidence-based approach to treatment that involves comprehensive assessment, hands-on treatment, exercise prescription, patient education, and acupuncture.
Fanaye Whyte graduated from D'Youville College in Buffalo, New York with a Doctorate in Physical Therapy, after completing a Specialized Honours degree in Kinesiology and Health Science at York University. Her passion for physiotherapy began with her own experience, suffering multiple sports injuries as a competitive varsity track and field runner, and as a recreational basketball, flag football and volleyball player. Fanaye believes that treatment should first and foremost thoroughly address patient concerns and goals. Her number one objective is to deliver exceptional care and help her patients achieve optimal outcomes that enhance their quality of life.
Having had the opportunity to work in many rehabilitative settings from acute to chronic care in inpatient and outpatients facilities, Fanaye has experience working with a variety of populations. These include but are not limited to neck and back pain, sports injuries, postural dysfunction, arthritic conditions, post-operative orthopaedics (e.g., full knee and total hip replacements), traumatic orthopaedics (e.g., fractures), as well as repetitive strain injuries. Her clinical experience at New York University Medical Hospital in Manhattan exposed her to caring for patients with neurological conditions such as stroke, traumatic and non-traumatic spinal cord injuries, Multiple Sclerosis, Parkinsons and Alzheimer's disease as well as cancer patients.
Fanaye is dedicated to growth as a clinician by furthering her skill sets through continuing education. She has completed training in Contemporary Medical Acupuncture, Neurokinetic Therapy Level 1 & 2, as well as courses on kinesiotaping, manual therapy, soft tissue release and exercise prescription.
Have a question? Ask me at fanaye@eastyorktherapy.com
Availability:
Monday: 9:30am - 2pm
Tuesday: 9:30am - 5pm
Thursday: 9:30am - 5pm
Now you can purchase gift cards for massage from the convenience of your home!